16 Participant Partners + 6 Associated Partners
EV4EU NEWS & EVENTS
Some News and Events that you can't miss out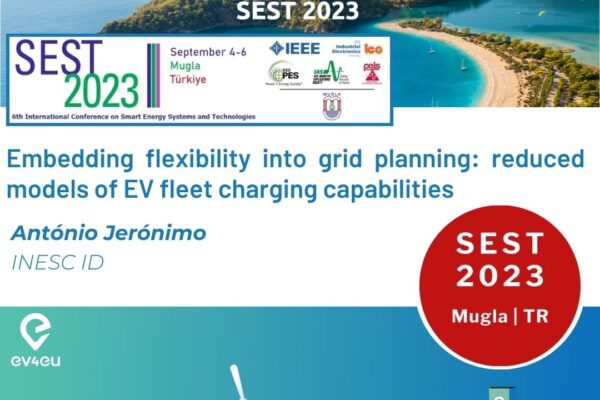 EV4EU will be attending the SEST Conference – 6th International Conference on Smart Energy Systems and Technologies, in Muğla, Turkey, September 4-6....
read more →
September 4, 2023
EV4EU Vision
In Europe, the transport sector is responsible for about 23% of Greenhouse Gas Emissions and it is mostly dependent on oil. Climate actions towards net-zero are gathering speed across Europe, supporting the massification of electric vehicles and aiming to achieve, by 2050, the carbon neutrality targets defined by the European Commission. Nevertheless, the increase of electric vehicles poses several challenges to users, cities, and energy industry.
Funded by the European Union´ Horizon Europe program for research and innovation and coordinated by INESC-ID, EV4EU aims to implement bottom-up and user-centric Vehicle-to-Everything (V2X) management strategies creating the conditions for electric vehicle mass deployment.
EV4EU will develop several tools, methodologies, services, technologies, and solutions that will consider the impact on the vehicle (batteries), the user needs, the environment, power systems, stakeholder´s business models and cities´ transformation.
These strategies will be tested in four demonstration sites located in Denmark, Greece, Portugal and Slovenia, allowing an evaluation of the advanced control methodologies and tools, the definition of the appropriate implementation conditions, and a consolidation of the most promising solutions and corresponding business models.
Ultimately, these tools will promote the coordination between electric vehicles and renewables, Greenhouse Gas emission reduction and the decarbonization of the road transport.